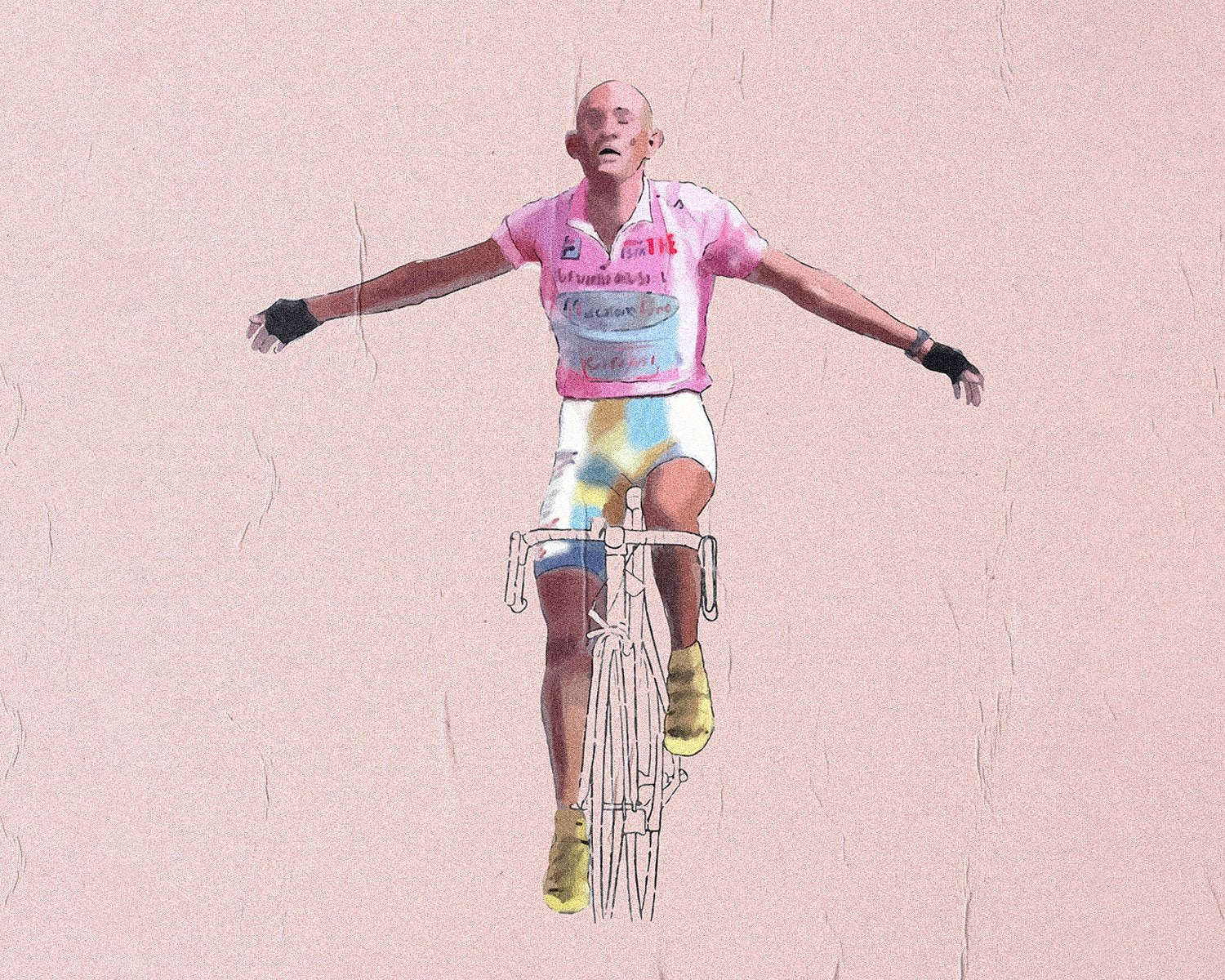 Let us dream, Pirate
Let us dream, Pirate
Words by Frank Heinen
Arnon Grunberg wrote about hotels that they make most struggles light and bearable. For Marco Pantani, hotels meant above all detachment, temporality and shelter in the absence of a real home.
Many people believe that Marco Pantani's death on Valentines Day 2004 in room D5 at the Hotel Le Rose in Rimini (overdose) marked the end of a five-year death process. Of course, all dying takes a lifetime, but you can pinpoint the very minute where the deterioration began in Pantani's case.
5 June 1999, in the ski resort Madonna di Campiglio.
Hotel Touring.
Another hotel.
Matt Rendell, one of Pantani's biographers, reconstructs the morning of that 5 June minute by minute in his book The Death of Marco Pantani; he untangles the tangle of events and tries to explain the inexplicable. What we, in any case, know thanks to Rendell is this: at 7:15 a.m., there was a knock on Pantani's door. Doping check.
At 09:40 a.m., the Pantani's team was informed that his haematocrit level was two points above the allowed maximum of fifty. Therefore, the wearer of the pink jersey was automatically excluded from competition for fifteen days by the rules at the time. While the other riders of the Mercatone Uno team were informed, Pantani returned to his room and smashed his hand through the window.
There was something about Marco Pantani, always. Everyone saw it. As soon as he switched to the pros in 1992, he stood out. Young riders tend to stand out, but Pantani's standout seemed bigger, more wide-ranging, more hypnotic.
It was in his elegance at times of great effort, which contrasted with the goblin-like fellow he was off the bike, and it was in his gaze. In Marco Pantani's eyes, a childlike softness and a terrifying darkness shared a room.
Within two years, he was one of the most promising cyclists in the world. He won stages in the Giro and the white jersey in the Tour. He resembled his leader Chiappucci, who he far surpassed in style and charisma in his appetite for attack and unfailing sense of drama. Pantani always seemed to ride faster uphill than the rest, even when he could not follow the best.
In a period that cycling seemed to be changing rapidly into a sport in which cunning beasts like Indurain, Olano, Ullrich and Tonkov would be in control forever in the grand tours, Pantani was an improviser, a soloist in a sport which became more and more a team sport. A climber, moreover, who performed so poorly in time trials that one wondered whether so much incompetence was not the result of pure unwillingness.
His appetite for attack and his physical limitations on every level except the high mountains already made Pantani a dramatic figure, years before he made a few fatal crashes and, even later, went down alone. Italian fans, in particular, understood his struggle; watching him race not only took them back to a time when cycling was still a game without calculations but also to a time when they were young and spectacular.
More and more middle-aged men in the late 1990s put on Mercatone Uno suits, tied a handkerchief around their heads and sought out the nearest steep mountain to cycle their way to a heart attack. Pantani was the child among adults. He was George Best at Manchester United, Roberto Benigni in Down by Law. He was who you thought you were deep down.
That he won the Giro and the Tour in 1998, in a year when no one would give a penny for a sport ruined by doping, was the kind of consolation people are rather receptive to. Pantani would renew cycling; he would become the new Coppi.
In that Giro of 1999, he seemed to have come to believe in that prophecy. His domination was astonishing and, to be honest, a little frightening. Pantani won every uphill finish, often with a big lead. Old footage shows how staggering the difference between him and the rest was in those weeks. Rendell writes that it felt like watching a superhero movie.
Take the 15th stage: a few kilometres from the finish line, the chain came off Pantani's bike. After a ferocious chase in which he overtook fifty men, he ended up at the front with Laurent Jalabert, who made half-hearted attempts to challenge him throughout the lap. Pantani passed Jalabert and won. When they asked Jalabert afterwards what he had thought at that moment, he answered: Quickly go aside; otherwise, he will ride over me.
La Gazzetta dello Sport wrote: Pirata, facci sognare. Let us dream. As so often, appearances were deceiving. Beneath the effortlessness was someone for whom life was all uphill. A vulnerable child who alternated manic moods with periods of great gloom. Those who knew this no longer saw Pantani's attacks uphill as a mindless climb but as a dogged escape from various fears.
There was something dark in Pantani's agility. He must have been an egomaniacal, deeply insecure boy, someone who had personally changed his nickname from Elefantino (because of his protruding ears) to the tougher Il Pirata.
Two days before the end of the Tour, in Hotel Touring in Madonna di Campiglio, Pantani's career ended, years before officially did. While the Giro continued without a pink jersey, Pantani went home to Cesenatico. There he gave a confusing press conference for a few days, in which he stated that nothing was his fault.
Everything that could go wrong went wrong in the years that followed; his relationship broke up, and doping and police investigations followed. The interest of the public was now focused on Armstrong. Pantani became more and more isolated, inside and outside the peloton; he became addicted to drugs and finally cycled mainly to stay ahead of his addictions.
He won two more stages in the Tour, more as a highwayman than as the king he once seemed to become. He also rode the Giro three more times - each year with a little less hope than the last. The hypnosis was over; reality had eaten its way out of the pretence.
Marco Pantani has been given little rest even after his death. For years, films and books are being made about the possible involvement of the Camorra in the positive test at Madonna di Campiglio. A letter from the Mafioso Renato Vallanzasca and an obscure recording from prison is evidence of this. The 2004 overdose, which is surrounded by questions and ambiguities, has been a murder. The investigation into this theory was closed in 2016.
Words by Frank Heinen 
Illustrations by Roeland Holemans (Instagram)
Frank Heinen (1985) writes for various newspapers, magazines and TV programs about sports and culture. He is currently a columnist for HP / De Tijd, de Volkskrant, De Muur and Bahamontes. He also wrote the cycling books 'Uit Koers' and 'De Kleine Heinen' and the novel 'De zaak Tom'. For his latest book, Buiten de Lijnen (2019), he received the Nico Scheepmaker cup for Best Sportsbook of the Year. Follow him on Twitter.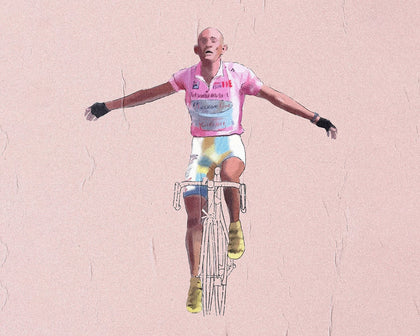 Let us dream, Pirate
In the third chapter of our journal, Dutch award-winning author Frank Heinen tells the story of a vulnerable Italian child who would become the new Fausto Coppi.⁣
April 13, 2022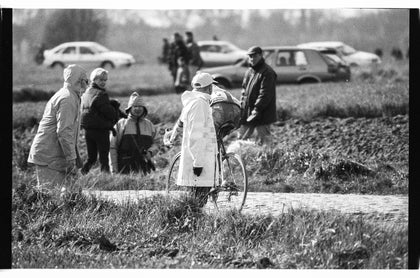 Heaven of the North
We kick off our journal with a story about the 1993 edition of Paris-Roubaix, where a young boy discovers the gateway to heaven.⁣
April 13, 2022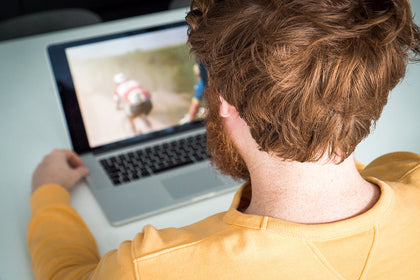 Your favourite Sports movies
April 13, 2022