Brothers, friends, teammates, fans. Since we were born, we've always been that, so founding Erstwhile was bound to happen.
Although we were always connected, we've had different paths in life. Evert and Roelof are brothers, and Rutger is a childhood friend. All of us were raised and still live in Mechelen, the friendliest and most beautiful town in the centre of Belgium.
Things were boiling for years. We should create together. Let's offer like-minded people clothes that embody the true values of sports, the joy of togetherness, the amateur spirit, laughter, the urge for a beer after a ride.
We wanted to make goods that last, goods that tell a story, goods that create a community, goods that are unique.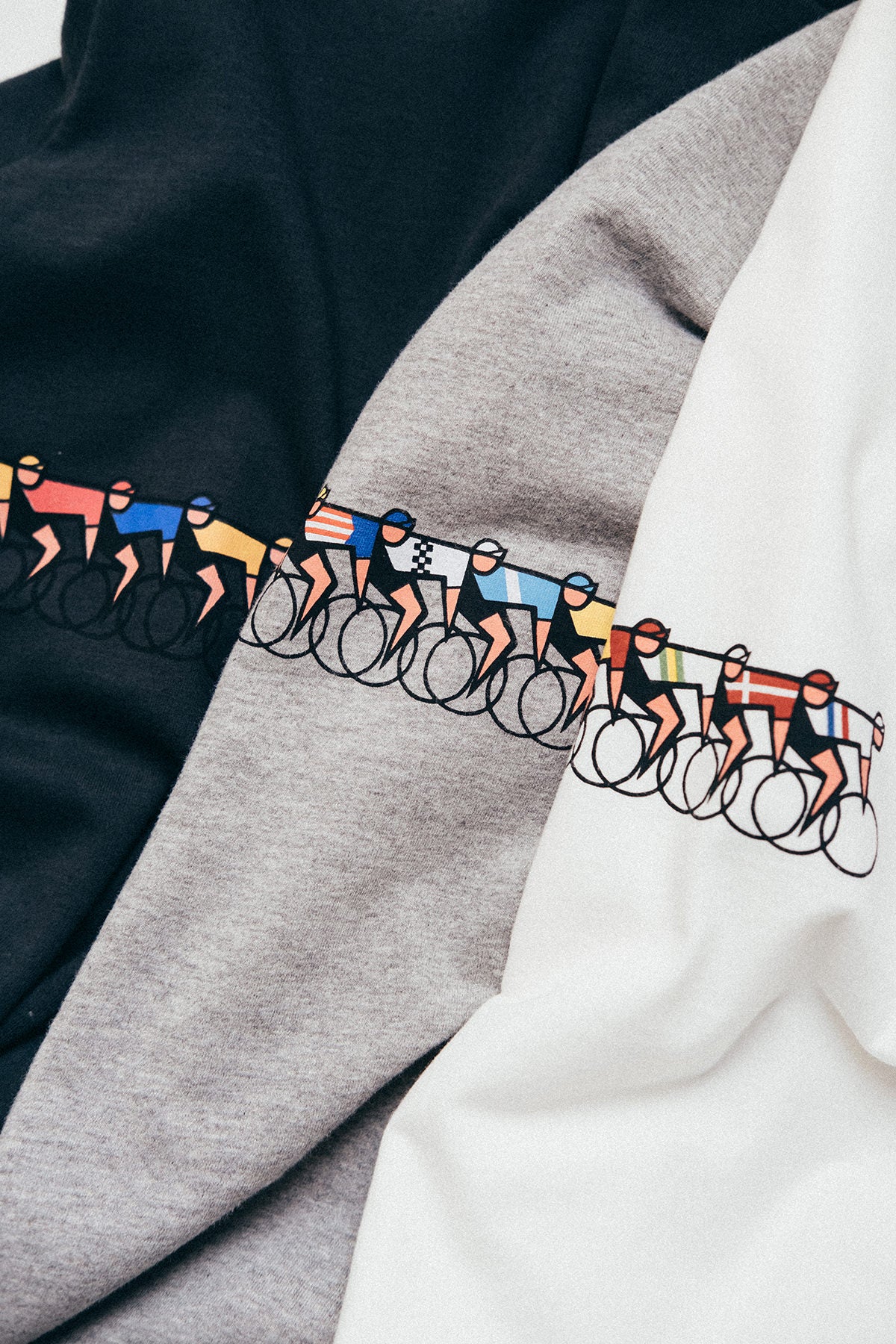 June 21, 2017 - everything changed on that day.
Evert was diagnosed with stage 3+ colon cancer. Things did not look good. But as Evert started battling from day one, the three of us started building shortly after. Nothing is more true than one of the biggest clichés in the world. Life is too short, so enjoy it while you're at it.
September 14, 2017 - we sat together and put our dream on paper.
Fueled by our gut feel, love of sports, and pure dedication to making goods that stand out, we started our journey. What followed was a year of trial and error. We talked and listened to loads of people, learned about designing and crafting clothes, travelled a lot, made lots and lots of mistakes, got inspired by the minor things and the kindest people, sampled lots and lots of clothes and foremost we rode our bikes for miles and more.
October 5, 2018 - Erstwhile started pedalling.
We took the jump, and we did it; we started Erstwhile. Our goal was clear from day one: creating sport-loving goods. Goods that are unique, tell a story and are unmatched in quality.
The moment we pushed that button, our cheeks were clenched together, but it was confident clenching. Shortly after the first domestic orders came through, retailers started to order; people began to like and talk about us genuinely. Not long after, France, UK, Denmark, Japan, Spain, USA, Germany, Australia, Sweden, Singapore, Hungary, the Netherlands, all parts of the world followed.
And the response and messages were nothing short of amazing and encouraged us to keep going. So the dream became a little more tangible.
Three and a half years later, we're still living the dream, still on a very, very small scale. We're enormously confident at what we do, why and how we do it, and for who we do it for.
We're proud that
We create sport-loving goods, for the sport, for the love, for the amateur spirit.
We craft it from A to Z, from the yarn, the dyeing, the knitting, the fit, the colours. We create, we make, we tell
We team up with companies with a shared culture of putting happy people at the centre of their business
People reach out to us to say thank you. And we all know it is the other way around. It is us that are thanking all of you.
So an enormous thank you to all of you. For the support, messages, gratitude and for sticking with us on our ride!
Have fun, enjoy sports, enjoy life.
All the best,
Evert, Rutger, and Roelof